Congratulations on finding your way into one of the newest and most exciting profit centre for entrepreneurs in the world! Forward-thinking people have been making money blogging for over a decade now.
In this article, you are going to learn how to make money blogging with six tried and true methods.
This article is a great place to start if you are interested in learning how to make money blogging.
If you don't already have a blog created then check out my guide to starting a blog and you'll have one started in no time.
Blogging has created avenues for countless individuals to explore their passions and share their discoveries with the world, creating a stable income for many, and creating wealth and worldwide notoriety for the most resourceful and courageous of this group.
Generation Y, Millennials, and Generation Z are coming to the Internet before they go to the legacy media for information. Not only can you make money blogging, but you can also create a lasting cultural impact and become the voice for your chosen niche.
What Blogging Can Do for You: Opening The Doors of Opportunity
Blogging is a viable work from home career. If you have kids, or you simply prefer to spend the workday in your pajamas, blogging may be right up your alley.
Blogging is also an incredibly good source of passive income, meaning that you can continue to profit continually from work that you have produced in the past.
However, let's not get ahead of ourselves. Without a doubt, the most important aspect of blogging is making money – everything else comes from creating this economic framework for yourself.
Once you open the doors to profitability as a blogger, all of the other doors mentioned above will open themselves.
Let's take a look at how to make money blogging on the Internet, step by step.
In this article, I cover several of the most profitable and proven ways bloggers can make a living. Below you will learn how to earn money from your blog.
Here is how to make money from a blog:
Understand How Bloggers are Paid
Generating Money with Google Adsense
Creating Revenue with AdWords
Monetize Your Blog Through Affiliate Commissions
Drop Shipping: Methodology For a Profitable Blog
Create an E-commerce Store to Make Money
 Selling Ad Space for Profit
Do any of these monetization methods sound familiar? Well, they should because millions of people are earning a living right now utilizing these monetization methods – getting started is pretty simple.
Here is how to make money from a blog.
1. Understanding How Bloggers Are Paid
The first step in being able to make money blogging is actually having a blog. Millions of people want to earn a living from the comfort of their homes but don't have any technical knowledge or even know what a blog is.
If you fall in this category don't worry. I was just like you when I started and soon you will be saying the same thing to people who come after you.
For those of you who need a little help getting started you can head over to my article on how to start a blog and if you are from Canada and are looking for the top Canadian web hosting providers then check out my Canada web hosting review and you will be up and running in about 20 minutes.
The second step to making money as a blogger is to understand where that money comes from.
It may seem like magic as you listen to the stories of your favourite blogger – the person who inspired you to look into the prospect in the first place. However, learning the financial pathways of commerce in the world of blogging is everyone's first step to a viable career in the field.
Do not make the mistake of thinking that you can stumble your way into profitability – five years ago, you may have been ok. Today, there is too much competition.
Protip: Learn the different methods of monetizing your blog and choose the ones that are most advantageous to you. Quantity is not important here – you will not be using all of these options at once, at least not on your first blog.
Learning the Lingo (Are you picking up what I'm putting down?)
You need to know the lingo of the blogging industry if you want to learn how to make money blogging. I guarantee you will see these terms everywhere, and they will become very important to your revenue streams.
If you will monetize your blog using advertisements (there are many forms of advertisement some obvious and others not).
These ads come from many different places, but they are usually related to your content.
For instance, if you blog about cat food, then the programs that help to organize ads for blogs like yours should try to send you pet items.
Page views – The number of times your blog page has been viewed.
Impressions – Usually the same as page views, but more specifically, the number of times the ads on your blog have been viewed.
Page RPM – Page revenue per thousand impressions (M) – A measure of how profitable your page is. There are others.
Clicks – The number of times that people actually clicked on the ads that are showing on your content.
CPC – Cost per click, or the amount that an advertiser pays every time a blog reader clicks on an ad. Certain niches will procure a higher CPC. For instance, you will see a higher CPC on ads if you are a jewelry blogger than if you are a cat food blogger.
Page CTR – Page clickthrough rate, or a measure of how effective your content is at getting people to click on the ads. Different industries have different benchmarks. View this document to see your industry.
Protip: If your Page CTR is low, you may want to check to see if the platform that is serving ads to your content is giving you ads for products that are actually related to your content.
If you have gotten this far and are intrigued by everything you are learning but don't have a blog yet do yourself a favor and don't waste any more time.
Further Reading on starting a blog: How to Start a Blog
2. Generating Money with Google Adsense
Google Adsense is the monetization option of choice for YouTube vloggers (visual bloggers). However, the platform can be added to third-party blogs as well.
Adsense is a favourite of blog beginners because of its relative ease of use – once you are approved for an account, you can basically attach any kind of blog you want to it and start getting paid. You do pay for this ease of use, however: Adsense can be one of the lower paying monetization options.
Signing up for Adsense is a breeze, but there are some caveats: You should set up your blog completely first and populate it with a few articles. Google manually checks every request for an Adsense account, and if your site is empty, you may get an email saying that you need more content before you will be accepted.
Protip: If you are repeatedly turned down for a Google AdSense account, attach the initial request to a YouTube account. Because Google owns YouTube and the website structure is already set up, AdSense monitors will be more likely to approve your account. At that point, you will be able to add other websites with minimal scrutiny.
Google Adsense is a great way to make money blogging online.
Make Money Blogging With Adsense – The Secrets
Learning AdSense strategies means learning Google's habits. Google is the number one content distribution platform in the world, so it is hard to get Google's attention as a new blogger – unless you are incredibly prolific.
In order to begin making some real money with an AdSense blog, you need your content to rank well within Google. This is becoming more difficult every day as new bloggers find their way onto the Internet and new websites jump in the index due to a lucky overlap of a hot news item and their keyword selection.
You may be one of the bloggers to get a lucky break and rank number one for a top-ranked search term, but don't bet on it. In order to ensure success with Adsense, your blogging strategy needs two elements:
You are producing 5 to 6 blogs per week consistently
Your topics within that blog are laser-focused
Producing Consistently
The one advantage to blogging with AdSense is that your blogs can be short – you really only need a minimum of two hundred words in order to begin viably ranking for certain topic areas. However, these blogs must be consistently produced and on topic – no weekends or holidays.
If you do have a break in your production, you risk Google labelling your site as less trustworthy if your traffic falls. This means that you may receive ads from Google that are less relevant or with a lower cost per click. Both situations are incredibly bad for your profit margins.
Laser-Focused Topics
If you want to use Google AdSense as your main source of ad delivery, which most new bloggers do because of its ease of use, you are basically working within the parameters of what Google thinks is important within your topic area.
Google has placed many of its keyword finder tools behind paywalls, and some tools have actually been completely scrapped.
Use Third Party Tools To Discover Keywords and Topics That Will Be Most Profitable
There are many third-party tools that have picked up on Google algorithms and can provide a legitimate alternative to direct information from Google, but keep in mind that they do not have insider access – they are simply making their best guess.
Google also has a way of completely changing the rules of the game on a whim, and there is no law that says Google has to inform anyone of what it is doing. It usually does but at its own prerogative.
Here are some highly respected third-party keyword tools that will help you unearth some of the best terms to use as anchor text and include in your Adsense blogs:
And here are some resources that you can use to keep up with Google updates:
Finally, the last free, robust resource that Google offers to analyze keywords is the Google Trends chart. Use it for all it is worth right now because you never know when you will get a video message from some nice looking nerd from Google telling you (very nicely) that it is coming down.
3. Creating Revenue with Adwords
Adwords is the Google-owned counterpoint to Adsense. Google AdWords is a great way to make money blogging online.
If you are looking to set up an ad campaign and sell products from your blog, this is an easy to use solution that you can quickly incorporate.
Instead of trying to organize your topic around keywords with the highest CPC to bring in cash, you become the advertiser. You will be selecting keywords that produce a high page CTR for the lowest cost.
Ideally, your blog readers will click through to an affiliate page with products that you receive a commission on for selling or you are bidding on words that yield high search volume for products and services that you are sell.
Because you are selling products instead of relying on clicks for your revenue stream, you may have a greater ability to improve your profit margins as an affiliate marketer and blogger. However, this strategy does require an initial investment in order to compete for the keywords that you want to use in your content.
Kissmetrics has this great article on how to create profitable Google AdWords Campaigns.
How to Create Money Blogging with Adwords – The Secrets
The most important words in your life if you are learning how to make money through a blog using Adwords is "lead generation."
Selecting the keywords that will allow Google to rank you in a niche that is highly targeted and within your expertise will naturally create leads for the products that you are partnering with on your blog.
Ideally, you are trying to populate your blog with the phrases that people naturally search for on Google, surrounded by relevant, engaging, human content.
The in-house tool that Google provides is the Adwords Keyword Planner. This is definitely worth your time to learn. Although there are third party tools that are arguably better (yes, there are outside tools that will tell you more about Google than Google itself), the in-house keyword planner can also be used in Adsense campaigns as well.
Remember that you playing the role of an advertiser when you use Adwords.
The other aspect of how to make money off a blog that uses Adwords is to advertise on the keywords with the most profit potential.
As any investor will tell you, you make your money on the buy, not on the sell. This means you will have to do some searching for the keywords that are most relevant and also at a discount because they have not been discovered by other advertisers yet. In most instances, these keywords will be one of two things:
Localized keywords are just what they sound like – keywords that apply to a specific location. If you are selling skiing products on a winter-themed blog, then you may want to look for keywords with "Denver" or "Gatlinburg."
Long tail keywords is a concept that simply means a longer, more precise keyword. General keywords will get you the most attention overall. The problem is that multinational corporations with global reach are competing for these words and driving up the price beyond anything that a new blogger will usually be able to afford.
Long tail keywords are usually skipped over by these enterprise level companies because they scale too small. However, they are perfect for your scale. You get less mainstream attention, but the people who are looking for your products will find you more quickly, ensuring you a higher conversion rate and a better chance at profitability.
Ahrefs is a very powerful tool you can use to find long tail keywords in your niche. I recommend reading their article on how to get a ton of traffic from unpopular search queries.
Secret: Ahrefs offers a Free account but they don't advertise it. The free account is perfect new bloggers to get a foothold. Just go to their website and contact someone via chat and asked to get setup with the free account.
Protip: Long tail keywords maybe two or three keyword phrases mashed together. Instead of "cat food," a long tail keyword might be "cat food for senior cats with sensitive stomachs."
Lucky for you there is lots of information on how to optimize your site to make money from targeting long tail keywords and Yoast.com offers a great post on why you should focus on long tail keywords to make money.
4. Monetize Your Blog Through Affiliate Commissions
The concept of affiliate commissions was mentioned above in the AdWords section. As an affiliate marketer for a company, you will be creating the content that initially draws the attention of the potential customer.
The links that you include in your content will take this customer to a product website. The products that are sold on the website should be related to the content that you are producing. Going back to the cat food example, a good affiliate here would be Alpo.
Including affiliate commissions in your strategy to monetize a blog can be incredibly effective. You do not have to give up your content strategies as mentioned in the Google AdSense section – you can incorporate both into the same blog.
However, it is definitely in your best interests to pay attention to the amount of outbound links that your blog readers are willing to accept. There are also search engine penalties for including too many links in too short a period of time on the same blog post.
Give your content a benchmark by using this tool, a helpful assistant in determining the maximum amount of keywords, and thus links, to include in a single blog.
Here is a great example of an affiliate commissions program that will help you to make money through blogging.
How to Generate Money Blogging Through Affiliate Commissions – The Secrets
If you want to make money with blogging and profiting off of affiliate commissions, your major play is the company or companies that you partner with!
A great blogger with the right affiliate partner can be one of the best ways to make money blogging. However, you must vet the company just as much as any reputable affiliate will vet you.
You will first need to decide the metric that you can most likely drive for your affiliate. There are three main ways to make money blogging with an affiliate:
PPS (Pay per sale)
PPC (Pay per click)
PPL (Pay per lead)
The pay per sale platform is self-explanatory – you get a percentage of each sale that occurs when you send customers to the affiliate site through your blog.
The pay per sale percentage is by far the highest percentage that a blogger will receive, moving as high as 50% per unit sold for well known, branded, elite bloggers.
Most bloggers will find the pay per sale model most profitable once the blog has been up for a while and gained a reputation within its niche. People are obviously more inclined to make a purchase from a familiar entity than they are from a blogger who started last week.
The pay per click and pay per lead models are similar, but not analogous.
Paying per click means that an affiliate receives a payment as soon as the prospect clicks on the link from the blog. Paying per lead usually, means that the prospect must fill in some contact information once reaching the partner site before payment is rendered to the blogger.
Leads are worth more than clicks, and the pay per lead model usually nets a blogger a higher percentage per conversion. However, clicks are easier to get and may provide a newer blogger wtih the easiest road to putting some numbers on the board initially.
Combining Attack Methods for The Greatest Profits
The best bloggers will use multiple strategies from this guide at once to drive traffic to the blog and then to the affiliate.
For instance, a blogger may utilize an Adwords strategy to target prospects who are most likely to make a purchase with an affiliate instead of relying on organic traffic.
Adwords should be combined with various other marketing strategies as well Straight North has created a beautiful infographic diagram that gives a visual representation of how to create multiple traffic sources check it out below.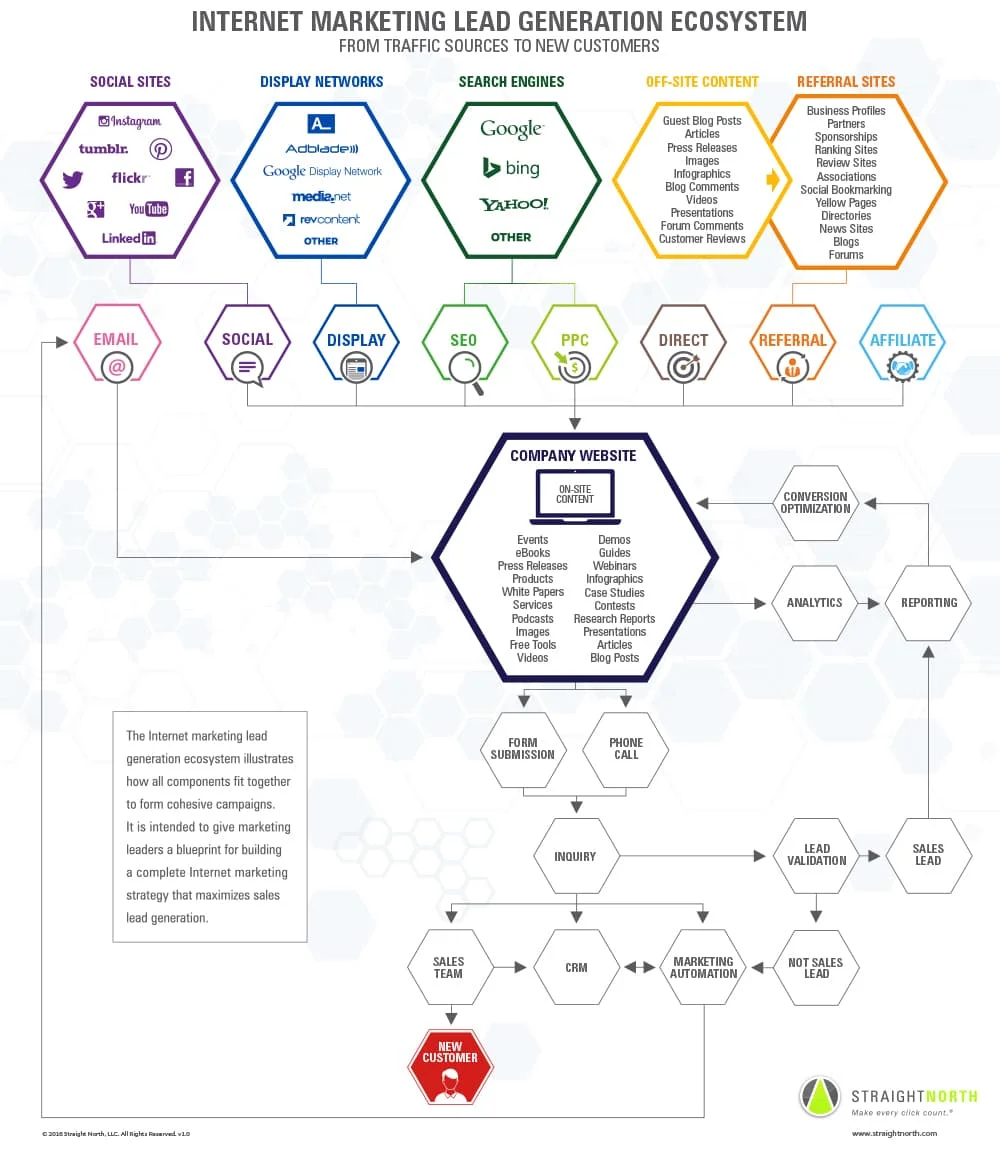 Infographic created by Straight North, a PPC management company
Bloggers may also run more than one blog with the same affiliate partner, testing different keywords simultaneously to see what kind of language drives sales, clicks, and leads.
Experiment. However, improve each iteration of your strategy based on hard data, not feelings.
Joining an Affiliate Network (or multiple) to Streamline and Track Your Ads
Newer bloggers may find it easier to join an affiliate network. A reputable affiliate network such as:
These Affiliate Networks do the heavy lifting of finding reputable partner affiliate companies, giving the blogger more time to focus on content.
Protip: Bloggers routinely use a free how-to eBook as a lead in. While educating the prospect about the topic, the entire book is also an advertisement for a related affiliate product.
Even More important, run, don't walk, away from any affiliate who tries to get you to write misleading or false reviews about a product. Your reputation as a blogger is worth more than any short-term gain from this type of activity.
5. Drop Shipping: Methodology For a Profitable Blog
Drop shipping simply means that you are selling a product from your blog and facilitating a sale without actually holding the inventory for that product yourself.
There are warehousing and inventory companies looking to move product who need content creators to draw attention to the stocks they have. These businesses will pay you to write about their inventory, usually in the form of a commission.
Again, you want to affiliate yourself with sellers who are involved in an industry related to your topic area. If you are blogging about cat food, getting into a drop shipping relationship with a video game producer would not be advantageous for your profit motives.
Here is a short introduction created by Shopify explaining the art of drop shipping.
If you are truly interested in how to make money blogging online with drop shipping, you should also learn the ins and outs of inventory management and affiliate marketing.
How to Earn Money Through Drop Shipping – The Secrets
Keep in mind that you will probably not have access to wholesale prices as a small drop shipper affiliate blogger. Until you prove yourself in the marketplace and scale your traffic up, companies are going to tack on fees that cover their costs for small volume.
The value add is your expert opinion to your readership that the affiliated product is of a high enough quality to forego caring about a small premium.
Also keep in mind that you may be the public-facing entity for the drop shipping business.
If there are logistical questions, you are in the hot seat. Try to stay away from companies with a reputation for bad customer service, because it is your reputation that is really on the line.
Google a company before agreeing to provide content for their drop shipping enterprise. The customer service aspect of a drop shipping business, unless it is 100% yours, is completely out of your hands.
The huge advantage to being a blogger with a drop shipping affiliate or business is that you can target your audience very specifically. There should be much less uncertainty if you use an Adwords campaign to select keywords or other techniques mentioned in this guide to create content.
6. Create an E-commerce Store To Make Money
Perhaps you are a retailer yourself, or perhaps you are an artisan with products to sell. If this is the case, you may want to blow your blog out into a full e-commerce store. This requires a bit more upfront capital, but you are selling speciality products that you ideally understand better than anyone because they are yours.
The two most well-known template platforms for this kind of blogging venture include eBay, Amazon, and Shopify, both of which you can easily link to a third-party hosted blog. If you sell from either of these platforms, however, keep in mind that you will pay a commission to the platform for the privilege of using its template instead of creating your own from scratch.
If you sell from either of these platforms, however, keep in mind that you will pay a commission to the platform for the privilege of using its template instead of creating your own from scratch.
There are plenty of eBay, Amazon and Shopify sellers who base their ability to sell strictly on the platform. However, as an example, eBay itself recommends using third-party marketing techniques such as a blog to improve your exposure through social media, visibility through search engine listings and viability through reputation management.
Keep in mind that you can also monetize the blog so that it generates its own revenue as you link to your e-commerce store.
Here is the community eBay page in which they describe many of the strategies that sellers use to stand out from their competition.
Creating an e-commerce store is one of the best ways to make money from a blog site.
How to Profit From an E-commerce Store – The Secrets
If you have selected this methodology as the best way to make money blogging, it is likely that you appreciate having control over the entire process from initial contact to conversion. However, you are really playing two roles here, and you must separate the two in order to be successful.
The store will do the selling. Your blog should be producing information, not thinly veiled ads.
The major search engines, which you should be targeting, will also harshly punish any blog that overdoes its links, which can quickly happen if you are trying to perform all of your A/B tests for the most popular product in a single blog. A human reader will also quickly turn off if your page is full of underlined blue.
Write with your precisely targeted audience in mind, and research who they are before typing the first word into your blog. One cost-effective and timely way that pro bloggers have found to cull customer information is to create a buyer profile.
WordPress makes it really easy to start an e-commerce store. One of the most popular e-commerce plugins used my millions with great success is WooCommerce and if you are planning on selling goods or services online then I highly recommend you install this plugin.
Bonus: Once installed you can learn how to use WooCommerce in my WooCommerce 101: Setting Up Shop Course.
Using a Buyer Profile
A buyer profile is basically creating a single entity from a group of people, using the average of the information that you find to populate an easily read document that resembles a driver's license.
For instance, if you find that the main audience of the power drills that you sell are male and range between the ages of 25-35, the age of your buyer profile will be 30-year-old males.
A Sample Strategy
Using this Pew Research social media demographics link, you may find that these 30-year-old males love to hang out on Facebook the most. Perhaps then your strategy might include perusing a few of the Facebook Groups these men frequent,
Perhaps then your strategy might include perusing a few of the Facebook Groups these men frequent, culling the comment threads for topic ideas, and writing specifically to those issues.
If you are truly advanced, you will cross-reference those topic ideas with a Google Trends search.
Use Google Trends to find the keywords that are most likely to perform well in a search by those men about those issues.
When you write your blogs, you might focus each blog on a particular topic and include the long tail keywords that you have found are most relevant as anchor text, linking to your e-commerce page.
Finally, you may localize a few of those keywords based upon the geographic information you facebook find by checking the profiles of the most popular group leaders or the group admins.
After writing the blogs, analyze the results, rinse and repeat, improving the strategy in every new generation based upon performance is the best way to ensure you are making the most money from your blog.
The Most Effective Types of Blogs
In your effort to inform and entertain with an e-commerce blog, two types of content have been found to be the most successful when engaging an audience. These two types of content include:
The pop culture crossover blog
The questioning expert
The Pop Culture Crossover Blog
Bloggers who gain the ability to invoke a significant pop culture reference into a niche will find great success as an e-commerce blogger. You may look for instances of a celebrity using a product that you are selling to entice a wider base of casual customers while maintaining your relationship.
You may look for instances of a celebrity using a product that you are selling to entice a wider base of casual customers while maintaining your relationship with the core audience that you researched using some of the tools and strategies mentioned above.
Instagram is an excellent example of this type of "influencer marketing" and I've written extensively about how to make money on instagram.
The Questioning Expert
Another highly successful form of blogging involves answering questions that are immediately relevant to the target audience. These blogs seek out popular questions that the niche audience is captivated by and writes the most informative, insightful answer to that question.
Bloggers who can maintain this performance will elevate themselves to the expert status more quickly, gaining the respect of first responders in an industry. These first responders usually serve as the best PR team a blogger can ask for, bringing organic traffic without the stigma that direct advertising causes.
7. Selling Ad Space On Your Blog For Profit
Once your blog begins to rise in popularity in your niche, you gain some additional opportunities for revenue generation.
In general, sellers and producers want to place their products where the web traffic is going. If that traffic is going to your website, advertisers will pay for the precious white space that resides beside your content.
Some bloggers dedicate their entire attention to improving the visibility and popularity of their blogs, forgoing monetization at first to more quickly come to a position to sell ad space.
In some industries, people may view a blog as more authoritative if it does not contain outbound links, so this is certainly a strategy to consider if you do not want to participate in any of the revenue generation streams above.
You also have more control over the amount of money that you are willing to charge for your own website space if your blog is popular, and you are not controlled by the arbitrary rates that advertiser platforms such as Google and Clickbank set for you.
At the same time, there are fewer rules for selling ad space on your own website. Because there are not as many industry benchmarks, you may actually reduce your premium without knowing it. For this reason, this is usually a strategy for more established and experienced bloggers.
Take a look at a few strategies for how to make money off blogs by selling ad space directly on your blog site.
How to be Most Effective Selling Ad Space – The Secrets
Scale is the driving factor in selling ads. Most of the sites that make a substantial amount of money from this practice are nationally or internationally famous such as TMZ or Salon.com.
Once you have established some traffic in your niche you can reach out to websites like BuySellAds.com to found publishers who are interested in paying you to place their ads on your site.
For the new blogger, this strategy is usually best practised as a speculative investment. The payoff can be extremely large here because there is no limit on what someone could ideally pay for your space, but it is not something that you should wait on, especially if you have yet to establish significant traffic (six or seven digits' worth of unique visitors per month) to your site.
The Positive News for Artists and The Cult of Personality Bloggers
There is good news for artists, amateur talking heads, motivational speakers, and dreamers who are striving to succeed in the highly competitive cult of personality industry – if successful, these are the sites that drive the highest engagement.
As such, they are the sites most likely to earn highly profitable ad space sales from high-value producers who need leading opinion leaders on their side.
In short, selling ad space is all about the home run, especially if you are in an artistic industry.
For the best results, you will probably need to spend some of your blogging time on the phone directly soliciting business.
Keep in mind that no matter how personable you are, advertisers will be looking at your web traffic first and foremost in order to determine the viability of the partnership.
The tips mentioned above in the more "sensible" ways to drive blog revenue will come in handy when you are trying to cultivate an audience substantial enough for direct advertisement.
You will also need to understand the technical particulars of blogging, because prospects will likely ask for a proposal from you before committing to anything. This proposal will likely need to include the following at a minimum:
Where the ads will be displayed on your website
The size of the ads on your website
How the ads will be displayed (sidebar vs. pop up, etc.)
How long the ads will be displayed on the site
You may need to conduct market research in order to remain competitive with other blogs that are in your industry.
For instance, if a competitor is receiving the same amount of traffic as you, a prospect may be enticed to your site if you can offer a larger space for the ad, a longer stretch for the ad to run, or a more advantageous positioning on the site.
Many webmasters may actually pretend to be customers in order to gauge the flexibility of competitors in the marketplace.
Getting to know the competition through simple observation is another great way to determine exactly how much space, time and priority your site will have to offer in order to be competitive in your industry.
How to Make Money Blogging: The Final Word
As you see there are lots of ways to make money blogging. A big misconception that many new bloggers make is thinking there are only a few specific ways to make money online.
In truth, there are dozens of ways to create a profitable blog. If you are looking for the best place to host your WordPress blog you can check out my article on the best WordPress hosting companies and learn about the ones I recommend.
I created this graphic to give you some additional ideas on how to monetize your blog.
Now that you know all of the basic strategies that blog owners and webmasters use to the final word is yours.
Which of these strategies speaks to you? Once you have researched your industry, which strategies seem to work the best for the niche that you can dominate?
What kind of income do you want to generate, and do you have a goal for setting up one very popular blog or a network of many?
The ways in which you can use, mix-and-match, and build on basic revenue strategies is almost endless, which is what makes the world of blogging so exciting.
New technologies give opportunities for new ideas, and you will constantly read stories of enterprising bloggers who found a new way to teach an old dog new tricks.
Commit yourself to learning your market niche and mastering your trade above all.
This passion will come through in your writing and lead to opportunities that you may not have been privy to before.
Remember to do research before affiliating yourself with any business partner, and keep your ear to the street for new technologies and solutions in the blogging world!
So there you have it…The six best ways on how to make money blogging!